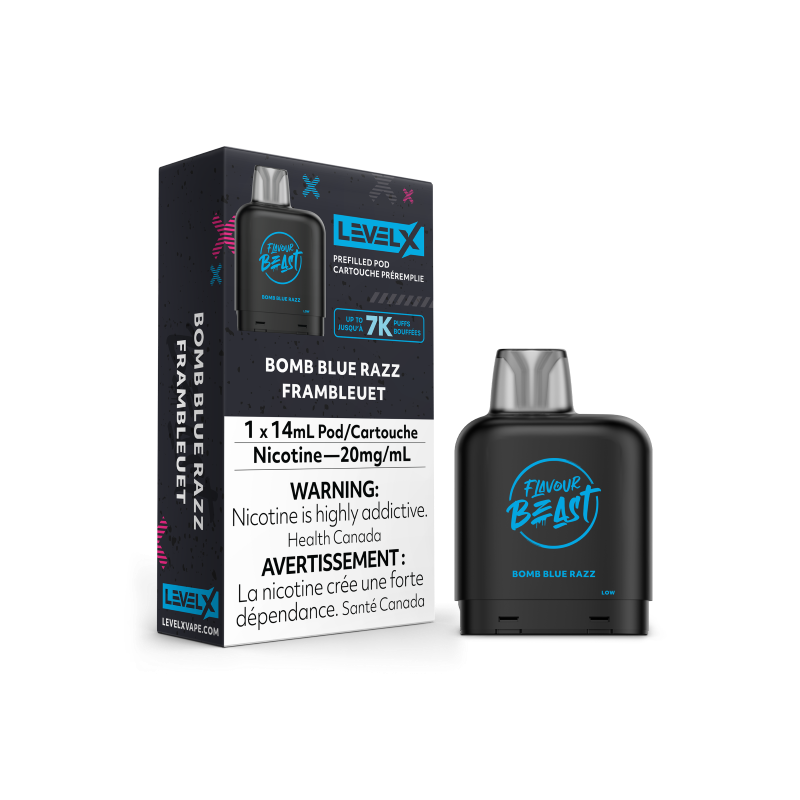 Flavour Beast LEVEL X Pods
Flavour Beast LEVEL X Pods 14mL - BOMB BLUE RAZZ
---
The Flavour Beast Level X pods are a 2-part semi-disposable vaping device.
Bomb Blue Razz -

 
Don't be shy, come grab a handful of delicious blueberries and tangy raspberries for the ultimate berry bomb!
Take it to the next level with LEVEL X, the new generation of snappable high-power closed pod systems that will transform your vaping experience from ordinary to X-traordinary.
With its cutting-edge technology and innovative design, LEVEL X goes the extra mile, allowing you to:
Experience your favorite Flavour Beast ultra-sweet flavours in a snap
Enjoy up to 7000 exhilarating puffs thanks to the high-mL capacity
Savour a completely customizable experience with an easy-adjustable switching airflow and battery indicator
Indulge in an extra satisfying and environmental friendly vaping journey
Level X Flavour Beast Pod Key Features:
Beast pod capacity that will last you for up to 7000 puffs
Save more with reusable battery format
Soft Anti-Slip Grip
Switch between high and low airflow in a twist
Comfortable Mouth Piece
Level X Flavour Beast Pod Specifications:
Size:

 

45 x 24 x 25 mm
Coil:

 

1.1Ω Mesh coil
Liquid Volume:

 

14 mL
Nicotine content:

 

20mg/mL
---
More from this collection