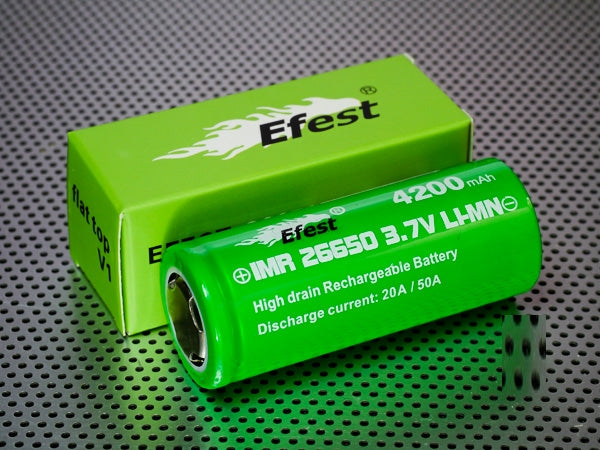 Efest
Efest 26650 Battery 4200 mAh 20/50A
---
Efest 26650 4200ah 50A IMR, 3.7 volt, high discharge rate IMR lithium ion battery.
Nominal Voltage: 3.8v Battery
Model: 26650
Capacity: 4200mAh
Maximum Discharge current: 20A
Maximum Pulse Discharge Current: 50A
Positive: Flat Top
Sizes: 26.21(W)*66.67(L)mm
Discharge temperature range: -20°C—60°C
Charge temperature range: 0°C—45°C
 
Caution Notes:
- Do not over-discharge/overcharge
- Recharge empty batteries (resting voltage ~3.6V) as soon as possible. Leaving Li-Ion batteries in discharged state will incur irreversible damage (capacity / cycle loss)
- Do not short circuit (will release tremendous current)
- Do not dispose of in fire. We do not recommend unprotected batteries in devices that they're not recommended to be used in, use at your own risk.
---
More from this collection